A Continuum of Training: Developing Effective Officer Training from the Ground Up
A Continuum of Training: Developing Effective Officer Training from the Ground Up
The fire service has not done an effective job of training its officer corps. In large measure it has abdicated its responsibility to arm its officers with the tools they need, not halligans, axes, or hoselines, but the knowledge, skills and abilities to lead, supervise and manage effectively. By not creating comprehensive, cohesive, systematic and sustainable training programs aimed at every rank (including informal leaders), the fire service creates a system of "leadership by accident". Without a commitment to relevant, specific, and thorough training, we will continue to see bad outcomes in the firehouse and on the fireground. Yet the fire service continues to wonder why these bad outcomes occur. They blame hiring practices, generational differences, everyone but themselves. Take a hard look at most any organization's training budget. If you look at what they invest for their newest members (recruit/probie) it typically represents an overwhelming majority of the resourcing provided. This means that the leaders who will be making in extremis decisions at oh-dark, with limited information and in a fast-moving environment are being provided a minimal amount of training that is not proportional to their scope of responsibility. Bad outcomes should not be a surprise, they should be expected. Using a relatively simple model followed by effective organizations in the civilian world as well as in the U.S. military, we will explore a template for creating a training program, a Continuum of Training, that was developed from the bottom-up, not the top-down. The goal is to provide solutions that are scaleable, with an eye towards pushing strategic leaders to not cut the budget pie into smaller wedges, but to making a bigger pie. Effective training leads to effective outcomes. The session will help change the view of how to train your officers in the fire service and whether its 3, 300 or 3000, to do better for the American fire service.
Learning Objectives:
Discuss the scope of the problem within the fire service as it relates to officer training
Explain what a "Continuum of Training" is and its relation to the fire service model as a solution
Demonstrate an example of what a Continuum of Training can look like
Discuss the background for the development of an officer development training program
Understand the critical nature of professional development programs in the fire service
Provide a relevant, detailed, and scalable template for implementation in all other fire service organizations
Review specific program models and their applicability throughout the fire service
Continuing Education Hours: 2

Instructors:
Marc Davidson
Marc is a thirty-five year public servant with over eight years in the Marine Corps and twenty-seven in fire and rescue. He served as a volunteer in North Carolina, Pennsylvania and Maryland and is a twenty-five year veteran of Fairfax County Fire & Rescue Department where he is a Captain. In Fairfax he spent eighteen years on the line in busy houses as a bucket firefighter, engine and truck driver and truck officer. With an earlier assignment to the Training Division as a Basic Training Officer he has recently been assigned back and charged with standing up an Officer Development Training Unit for the Department. He teaches regionally and nationally on leadership and tactical fieldcraft and coordinates multiple training opportunities for aspiring and incumbent officers. The culmination of his time in public service is the keen understanding that in any environment effective training is what leads to effective outcomes.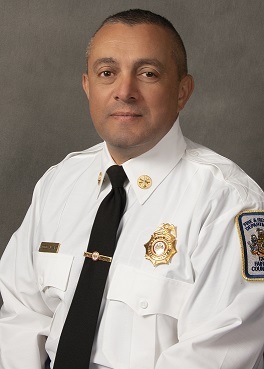 Rocco Alvaro
Rocco has Twenty-six years of progressively responsible and varied experience within the Fairfax County Fire and Rescue Department leading to his current assignment as the Professional Development Section Battalion Chief. Rocco has been proactively involved with almost every facet of the Fairfax County Fire & Rescue Department. This varied experience has led to the development of a wide range of knowledge, skills, and abilities within the public safety arena, including a variety of challenging positions in: Fire Investigations, Special Operations, Field Operations, Training, Recruitment, and Fire Prevention. His experience as a front-line field supervisor dates back to 2006. Most recently, as the Professional Development Battalion Chief, Rocco was directly responsible for the organization's leadership and professional development training. This formal and informal training is targeted to all personnel within the department, to include uniformed, civilian, and volunteer staff.
Components visible upon registration.